I continued teaching banjo at J. R. Reed music store in Austin, Texas during my year at The University of Texas (1965-66). George Nixon, a fellow Houston banjo picker, reminded me in a recent conversation that I had given him banjo lessons during the years that I was in the finance world as a banker with the old Texas Commerce Bank (1966-68). In 1972, shortly after I began my 20-year career broadcasting Bluegrass music in public radio, I began getting phone calls at the radio station from folks who wanted to learn to play Bluegrass banjo.
I had not taught banjo since 1968. However, I told these folks I could get them started, and I began making myself available here in Houston for Bluegrass banjo lessons. Before the end of 1972, I had become a full-time Bluegrass banjo teacher. I had already created my 2nd learning system, for my own use, so it was a very short step to use my system to teach other folks to play Bluegrass banjo.
What was different now was that I had a real teaching method, and I found I had a real hunger to help others avoid all the mistakes I had made. For the first time in my life (I was 31), I knew why I was here. I could see that I could teach folks to play real Bluegrass banjo. I discovered that I had (and still have) a teacher's heart. Big surprise! My dad was a teacher.
I hope the testimonials below give you hope and insight into your desire to play Bluegrass style banjo. BanjerTab (my 3rd and final teaching system, discovered in 1980) can help you to play better Bluegrass style banjo.
Ed Mozer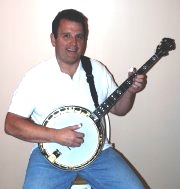 Whether you're just starting out or have been playing Bluegrass banjo for years, I whole-heartedly recommend that you contact Anton Ullrich. He WILL make you a better banjo player.
I purchased my first banjo back in college (some 30+ years ago) and picked-up several "learn-to-play" books and taught myself how to read banjo tablature. Eventually, I developed a playlist of a dozen or so Bluegrass standards that I could play proficiently (Cripple Creek, Jed Clampett, Foggy Mountain Breakdown, Circle Be Unbroken, Worried Man, etc.). But, once I started my career, got married and started a family, my picking time gave way to life's priorities. Don't get me wrong, I still enjoyed pick'n in my precious spare time, but I wasn't learning much in the way of new material. It was tedious to learn a new song from tablature. I'd struggled with it for a week or two, perhaps learning a few lines. Frustrated, I reverted to my increasingly boring playlist.
In early 2007, I begrudgingly looked into taking lessons. I was apprehensive because I assumed most banjo teacher's methods focused on the basics (which I already knew) and wouldn't be able to challenge me to learn new material... boy was I WRONG!!! I found Anton (Tony) Ullrich's 5stringbanjer website through a link on the Bay Area Bluegrass Association (BABA) site. Just like you're doing now, I read Tony's bio and looked through the testimonials. In March 2007, I had my first 45-minute lesson with Tony. I knew from the get go, I had found a very special person that was genuinely interested in making me a better banjo player. He observed my playing and quickly pointed out and corrected mechanical issues I had with my fret hand. In no time I was picking my old playlist faster and with more accuracy.
Tony's passion and knowledge of the banjo and his unique and personalized teaching methods are an incredible combination. He infuses the lessons with humor and trivia; Tony is a wealth of knowledge when it comes to bluegrass history. I believe the keys to his teaching method are the lesson tapes and "banjer" tab, which Tony developed himself as a visual teaching aid. The audio tapes are not pre-recorded (canned) lessons that all his students receive. On the contrary, during the course of each 45-minute session, Tony builds a lesson tape specific to the song or banjo break I'm learning. If there's a particular banjo lick or element of a song that I'm having difficulty with, Tony will record practice tracks at various speeds along with key teaching points that I can work on from home. Once I learn to play the break or a whole song, Tony records tracks at various tempos on the banjo and/or guitar. I find this very effective in developing my speed and timing. Before I realized it, I was learning song after song and developing new picking techniques. We didn't focus on just the more popular banjo breaks. Tony also taught me backup (very important for jam sessions), as well as beautiful melodic breaks. Thanks to Tony, my playlist has swelled to over 40 songs!!! Not all of these songs I learned from Tony. Some I learned on my own. That's because I'm much more proficient at picking-up new material since taking lessons with Tony.
Anton Ullrich is not only a master Bluegrass banjo player, but more importantly, he's an outstanding and patient teacher. So if you want to learn to pick some good old bluegrass standards or get into some real "knuckle-busters", do yourself a favor and get in touch with Anton.
Ed Mozer
Katy, Texas
Mike Crouch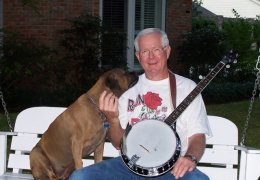 My name is Mike Crouch. At the age of 64, I, who had never played a musical instrument in my life, decided I wanted to learn to play the banjo-specifically the bluegrass banjo. For Christmas, my wife purchased a used instrument from a local music store and got the name of an instructor as my gift. That instructor's name was Tony Ullrich. Turns out this random selection for instructor, was an excellent choice for me. With some fear and trepidation, I set out to learn a completely new skill.
I had no reason to be so apprehensive because Tony is blessed in abundance with the most important skill for any teacher (patience). His patience, encouragement, and understanding of working with a complete novice not only assured me that I could, with practice, learn how to play the instrument; he convinced my clumsy fingers they could actually get into proper position.
I have very much enjoyed the process and format that Tony uses for instruction. He allows me to video every lesson, and then I use the video at home while practicing. For me this has proven to be a real aid in my learning to play. I very much appreciate Tony's love for Bluegrass and Western music and his patience in keeping me on track.
I have taken lessons for almost 4 years, and my only regret is that I did not start sooner, because I thoroughly enjoy the opportunity to work with Tony and grow in my ability to play this fascinating instrument. And yes, even though I am no virtuoso, I can now play many songs. I consider Tony not only my teacher, but my very good friend and brother in Christ.
Mike Crouch
Kenny Stevens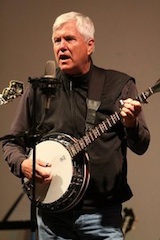 I had always thought that the banjo was one of the neatest instruments and it really sort of mystified me in watching someone play. About a year and a half ago I decided I wanted to learn to play it…(no previous stringed instrument experience). After about three weeks of making friends with my new, inexpensive banjo and the CD that came with it, I decided I wanted and needed real lessons.
How fortunate I was to have found Tony Ullrich. Everything changed from that point on. The first day, he reminded me …"Don't be baffled by this thing, it's just a banjo and we'll keep it fun."
His teaching method is S-I-M-P-L-E and removes all the mystery and confusion. If you follow his lesson plans and practice, in no time at you're playing back-up banjo to a number of bluegrass favorites and instrumentals. After about five months of lessons with Tony, I had graduated to a concert-grade banjo and was contributing in quality jams with experienced players. Today? It's only gotten better and I can't wait for the next Pearl, Fayetteville or wherever. I've even been invited on stage a few times at a couple of the local monthly festivals.
Tony is a first-class Texas gentleman and a committed instructor. As a bonus, he abounds with bluegrass music history and local folklore. I look forward to each lesson because they are enjoyable and I learn something new to be applied immediately, and importantly, later in another piece. As I said, Tony seriously commits to teaching banjo a right, simple and fun way. Practice, combined with that same commitment, continues to make the whole experience fun and rewarding. After all, isn't that why we do this?
… "It's just a banjo."
Ken Stevens
November 2010
Guy Dow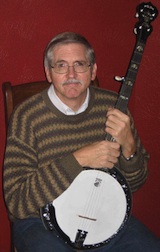 Greetings All! If you are considering banjo lessons and more specifically, banjo lessons with Anton Ullrich as your teacher, you are on a fast track to an incredibly fun and enjoyable learning experience. In 1972, I got my first banjo. For the next 37 years I struggled with trying to teach myself this wonderful instrument. I studied tablature. I listened to tapes. I bought and read books and watched videos and anything else I could get my hands on; all with no real results. Over the years I would get my banjo out and spend months trying to play reasonably well. After little to no success, back into the closet it went until I was ready to "torture" myself and start that frustrating process all over again. Now, fast forward to January 2009... Through a mutual friend (another student, actually), I met Anton Ullrich and I started taking lessons. In no time at all, he had me picking that old banjo like I could not believe. All the concepts and patterns and rhythms and tunes that I just couldn't get on my own, he (patiently) explained and showed me how they all worked. Quickly, all the years of frustration and trying to do it on my own just melted away and it was fun again. All the songs I had struggled to learn, he had me playing in short order. Now, after two years of lessons, I can't believe the number of songs that I've learned and maybe even more importantly, how much more I know about music and about my banjo. Like so many others, my biggest regret is that I didn't meet Anton sooner. My weekly banjo lesson with Anton is definitely one of the highlights of my week.
Guy Dow
Cypress, TX
Charlie King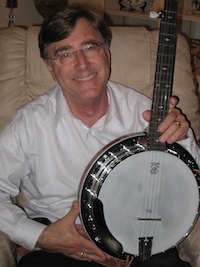 For many years I have wanted to play the banjo but never took the time to get started. In my mid 50s I decided that the time had come to either start taking banjo lessons or forget about ever playing. I enquired about banjo teachers and heard that there was a really great teacher named Tony Ullrich. Soon I was taking lessons on a rented banjo. Now, over 5 years later, banjo lessons and banjo playing are part of my daily routine.
Tony is a fantastic banjo player and he is a born teacher. Tony has a great, easy to understand teaching method. He starts off teaching banjo backup so that his students can quickly start playing with other musicians. He teaches fiddle backup techniques, "up the neck" chords, harmonic banjo, and lead parts to many bluegrass songs. If you have a song you would like to learn, all he needs is a recording of the song and he can teach you.
Tony's teaching method breaks teaching points into easy ideas to master. He has been teaching long enough to know how much to assign so the student can master the lesson. With daily practice it is easy to be ready for the next week's lesson. If you don't have as much time to practice he adjusts the lessons accordingly. He is patient and "never gives up on his students".
Charlie King
Sugar Land, TX
Jenny Farris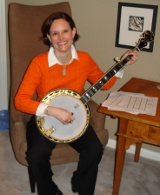 Dear Friend,
I can't begin to explain how much I have learned from Anton in the past year. Finally the banjo makes sense. I have struggled through traditional lessons in the past, only to give up after many frustrating hours of practice. Anton's method provided instant success and fun! He clearly explains the rhythm of the banjo music with key words and visual diagrams. His numeric system is easier to read and remember than tablature.
After only a few lessons, I was playing real music on my banjo. Anton's method also teaches you to play by ear and not rely on written notes. This enables you to play many songs without a lot of memorization.
Learning to play the banjo is the best investment I have made this past year, and by far the most fun past-time.
Remember: You just can't play a sad song on the banjo.
Happy picking,
Jenny Farris
Gary Henderson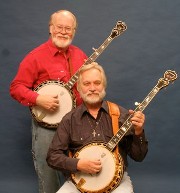 Like everyone else, I was surprised and delighted at how quickly Anton's approach gave me the ability to play song after song. I took lessons from him for years, as a result. Tab never worked for me, and Anton combines a rare gift for teaching with a completely new way of representing the music on paper that is far easier for me to understand.
I really believe that ANYONE can learn to play now, and play well -- thanks to the years and years Anton has spent digging these licks out of the classic recordings, creating his own new licks and breaks, and -- especially -- learning how to teach the rest of us how to play.
Gary Henderson
W.E. Murrell
I started learning from Anton's teaching method at 79. The Ullrich method of playing brings a new dimension of pleasure and satisfaction into my life. I wish I had started at 69 or 59 or earlier!
W.E. Murrell
Julie Wagner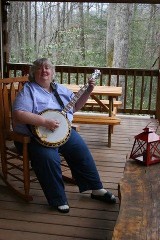 I've been a fan of bluegrass music for a long time and finally decided it was time to learn how to play the banjo. Trying to decipher tablature using books and DVD's became very frustrating, and I quickly realized I was not making any progress. So I began my quest to search for a banjo teacher. Then Eureka! I found Anton's site on the internet, contacted him and signed up for lessons.
Anton's teaching methods may seem unconventional at first, but he will have the student up and picking before you can say "Nine Pound Hammer." Anton has a unique gift of breaking down the nuances of a complicated banjo lick into smaller simpler parts, and then communicating those sounds to the student. Then it is just a matter of putting all the parts back together to make it sound like a real bluegrass song! I am always amazed how Anton can anticipate and zero in on a difficult measure and have me playing with ease. Instead of tab, Anton has developed his own "shorthand" for following the music. It reminds me of colorful hieroglyphs when I read it and makes more sense than tablature. Anton's enthusiasm and extensive knowledge of bluegrass music is contagious. He always has some fascinating tidbit to share about a particular song or recording. I can always count on learning something new and interesting each lesson. I feel so fortunate to have Anton as my teacher and friend. If you are hankerin' to play banjo and wondering how to start, contact Anton Ullrich.
Still pick'n and grimacin'
Julie Wagner DVM
Houston Texas.
Laura Leigh Branson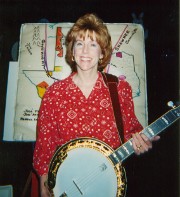 If you're like me, learning to play a new instrument was very intimidating but Anton's BanjerTab system really works! It got my eyes off the paper notes and quickly playing in real situations.
I never had the benefit of formal music training and wasn't sure what to expect when I started playing the banjo in 1995. Anton made playing fun and easy. Along with an infectious laughter and sense of humor, his teaching skills are among the best I've ever experienced as a student. Learning the banjo has been one of the greatest pleasures in my life.
Laura Leigh Branson
Murphy Graham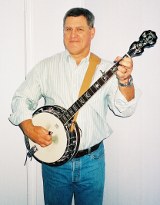 I was a self-taught guitar player for many years when I decided that I just ought to learn to pick an old banjo that was collecting dust at my brother's house. I made little progress on my own until one day I bumped into a cross between Gabby Hayes and Santa Clause while buying a set of guitar strings at Memorial Music in Houston. This jovial fellow assured me that he could get me headed in the right direction. That was about eight years ago and today I consider myself to be a Banjo Player of modest ability, limited mostly by the time I have available to practice.
As a father of three boys that are active in sports, a business owner, and a coach of youth sports, my time is limited. I play for myself and, in the early days, was forced out to the garage to practice. Had my goal been performing on stage, I am confident that, under Anton's tutelage, I would have been there in 2-3 years. The success of his system was nearly instantaneous. Within the first year I was playing recognizable versions of the classics – "Dueling Banjos," "Cripple Creek," "Jed Clampitt," "Foggy Mountain Breakdown," "I'll Fly Away," "Nine Pound Hammer." Anton's "BanjerTab" is a simple and intuitive system for translating Scruggs-style banjo and he stresses in his lessons the common and repetitive elements found there.
Anton is still one of the premiere banjo pickers in Texas, yet, as a born teacher, he has the unique ability and patience to teach the beginner, as many advanced music teachers will not take beginner students. I think this is because Anton has a real passion for the banjo and is compelled to share his passion. He likes to be there when a new student takes those first steps on their banjo journey.
Now, after these eight years, my Fridays with Anton have become more than banjo lessons. He is one of my favorite people. I have gone through periods where I practice every day and make real advances and periods when I get busy or travel and go backwards, but I never miss my lesson if I can help it. Anton is there with his smile and sense of humor, with his stories about the music he loves and the people who made it. Anton is a creative teacher, always striving for interesting, new ways to teach the fundamentals. He is a colorful piece of Houston music history and a good friend.
If you think you want to learn the 5-string banjo, Anton Ullrich and BanjerTab are the "sure fire" way to get there.
Murphy Graham
Houston, Texas

Bob Young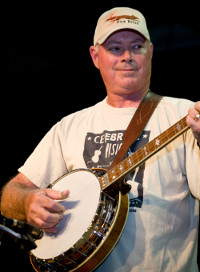 To: All Banjo Students
From: Bob Young
Re: Lessons with Anton Ullrich
Pickers everywhere — In a short paragraph I will try to convey my Banjo experience over the last 3 years. It all started at the age of 54 when I caught the bluegrass bug and felt the urge to learn the 5 string banjo. Anton came highly recommended by an old neighbor who is a master with a tenor banjo. Over the last 3 years, I have absorbed an immense amount of knowledge, both in Scruggs style & melodic, under Anton's teaching system. BanjerTab has been easy to grasp and, along with the tapes of each lesson, make this system work for both audio & visual learners. Anton has also been very instrumental in giving me the encouragement to play in public venues, not just at home. I can easily say that my journey to become a proficient banjo player has been a great one with Anton's help & dedication in teaching others to play. I would highly recommend this instructional system to a beginner as well as an advanced player needing to work on technique.
Respectfully,
Bob Young
Houston, Texas
Greg Hassell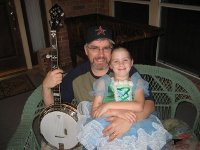 Every New Year's Eve, my annual resolution included getting in shape and learning to play a musical instrument. And every December, I would realize that I had gained more weight and was still limited to plinking out the same feeble chords on my guitar.
When I took up the banjo last year, it was my way of starting over. I am absolutely certain that one of the biggest reasons - if not the reason - that I am finally reaching my goal is Anton Ullrich. Put simply, Anton has put his heart and much of his life into the banjo. He works hard to see the instrument from the student's perspective. He has figured it out at its most basic level - so you don't have to.
The more I accept Anton's advice and stick to his program, the faster I progress. In less than one year, he has taught me to play bluegrass standards at tempos that are faster than I can strum C-D-F on my guitar. It's so much fun, I've started dragging my banjo into work so I can sneak in some practice during my lunch hour.
If I had to compare it to something, it would be like getting the chance to paint on a canvas that's been blank for a long, long time. And the more I paint, the more canvas there is to paint on. Better still, you don't have to be an artist. You just have to love the music.
Now if I could just get Anton to help me with that exercise program...........
Greg Hassell
Byron Gilleon
When I retired I decided to spend more time with my music. Over the years I had tried learning to play several acoustic instruments, mainly the guitar, but never really succeeded. Three guitar instructors and numerous books and videotapes didn't work. Since acoustic music, mainly Bluegrass, was my interest, I decided to try the banjo. I had purchased one at a guitar show several years before but had not spent a lot of time playing it.
I found Anton on the web and was happy to see he specialized in banjo and was a full time instructor. My previous instructors were full time musicians and part time instructors. Anton's method looked intriguing so I decided to give it a try. Three years later, I have never been disappointed.
Anton has developed a teaching method that is not only fun but also extremely effective. He has studied the right and left hand and has found ways to make the banjo easier to play and play faster sooner. He has you playing songs as they are played on recordings within a few months. Not simplified versions but the real thing. None of that "learn these rolls" and "play these chords" like others teach. One of his creations is BanjerTab. This replaces conventional tablature. I find it easier to read at a glance, and it conveys much more information than regular tab. I also like his backup method. It's easily adapted to playing new songs and much more fun than some techniques taught by others.
I have been extremely pleased with what I have learned and will continue to take lessons as long as I'm in the area. Anton has done for me what other teachers and methods could not. Anton Ullrich is true professional Banjo Instructor.
Byron Gilleon
Houston, Texas
Miles Barrett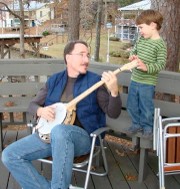 My family and I were displaced to Houston due to Hurricane Katrina. After a month, my family moved back home but my job didn't and I needed to do something other than work. I found Anton's website and gave him a call. He said, "I'm going to teach you back-up banjo." I said, "OK."
Five months later I have come a long way and I've added several songs and lots of picking skills to my repertoire. Every step of the way it was hard work but fun! The more I practiced, the more Anton loaded into my next lesson. What Anton really taught was syncopation, dynamics, technique, rhythm, and he really taught me how to work through a song until it came together. I looked forward to every lesson!
Before I met Anton, I learned the 5-string banjo from books and cd's. The first 6 months were rough – nothing sounded like "banjo picking." I eventually learned a half dozen beginner songs though it was tough learning each song by slogging through them blindly. I should have started with Anton. He is an excellent teacher, patiently leading me through each phrase, diagnosing problems, and yet he is always encouraging! He listens when I play and constructs drills to work through the problem areas.
Each lesson is recorded to tape so that you can go home, listen, and repeat. THIS IS EXTREMELY VALUABLE! Some of these little banjo phrases are intricate and are hard to read off paper. Listening really worked for me so that by weeks end, I could play the material and I was ready to move on.
Though I now have to move back, I will still be visiting Houston on business and I plan to make sure to find time for more lessons with Anton!
Miles Barrett
Dr. Jay (Zwisch) Zwischenberger
"It's Just a Banjo." Don't be fooled, Anton Ullrich is a master of adult education.
With over 30 years experience in teaching, Anton has perfected the art of verbal and visual reinforcement, stepwise breakdown of complex motor skills, and developed a language (called "banjertab") to communicate the notation, fingering, timing, inflection, and positioning of both the right and left hands.
In my banjo-picking career, I've been exposed to many named players (J.D. Crowe, Jim Smoake, Garland Shuping, Ross Nickerson and every imaginable instruction book). All were excellent in demonstrating how they could play, but none could break down the various components of the three-finger technique so that a beginner could quickly advance to achieve the desired snap, crackle, and pop.
Everyone advocates learning the rolls with emphasis on the melody note and "syncopation" of the background. Anton recognizes the strong-soft-soft inflection of Earl Scruggs and the masters, which gives bluegrass banjo that galloping feel. Listening to and playing along with Anton's taped lessons allows one to imprint the proper timing and sound. Then, using the banjertab notation for reference, one can progress with speed unparalleled by any other banjo teaching technique.
Since imitation is the most sincere form of flattery, I have incorporated Anton's banjo teaching techniques into my curriculum to teach surgery residents complex surgical procedures in direct parallel to learning the five-string banjo. Over the years, I developed a surgical teaching technique of graduated responsibility and autonomy. This style allows practice readiness of surgeons as they develop. I call it the "Zwisch Model." But we all know I probably should have named it the "Tony Technique." I personally am grateful, my students are grateful, the patients are grateful, and anyone exposed to Anton's unique five-string banjo method will certainly share my enthusiasm.
Joseph B. Zwischenberger, M.D.

Professor of Surgery, Medicine, and Radiology
LeRoy Hillyer, M.D. Endowed Chair in Surgery
Director, General Thoracic Surgery Program
The University of Texas Medical Branch, Galveston

Johnston-Wright Professor and Chairman of Surgery
Professor of Pediatrics, Diagnostic Radiology, and Biomedical Engineering
Surgeon-in-Chief, UK HealthCare
University of Kentucky
Francis C. Mougne
When Anton taught me the "backbone" of his method to Bluegrass banjo in our first lesson I learned one of the greatest lessons in music, to be applied not only to Bluegrass music but to music as a whole.
Overall Anton's "BanjerTab" is a clear and visually aesthetic method in learning to play and understand Bluegrass banjo. The way the music is broken down and represented has shown me a way to achieve solid timing and clean tone. Keep in mind that the visual aspect is of great help. I can't quite explain why or how but it works with the brain, ear and fingers to make playing the banjo fun and easy. I correlate it to a roller coaster ride every time I play.
Ear development is also another strong attribute I have developed unknowingly with Anton's method. After time my ear developed to the point where I can listen to a break and I find that I am able to recognize a lot of the licks and play along with the tune within minutes. Mind blowing and fun.
Patience is something we all must practice when learning a new tune... however times they are changing. The learning curve is greatly decreased with Anton's "BanjerTab." The best example I can give is that being a fiend for banjo music I have gone the way of "Tab" to learn a tune. I spent about 4 frustrating weeks working on "Clinch Mountain Backstep." Tab didn't cut it, I finally asked for Anton to break that one down for me. In a week I was playing along with the CD at tempo. Immediate gratification.
To anyone wanting to learn the banjo I highly recommend Anton's method. Fun will be at your fingertips and ears as you learn, and your ability to play with others right along side. Thanks Anton!
Sincerely,
Francis C. Mougne,
banjo player for Keystone Station
Marin County, Ca.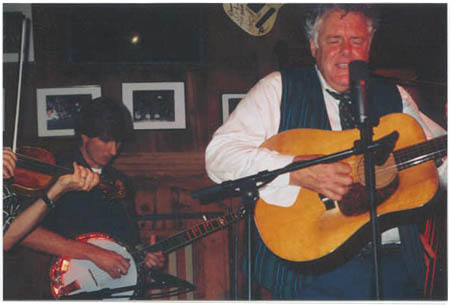 Francis Mougne backing Bluegrass legend Peter Rowan
Jan. 15, 2002, Sweetwater Saloon, Mill Valley, Ca.

Francis Mougne (seen here) plays on a Deering "Calico" model banjo.
Louise Cirasole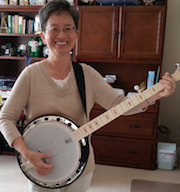 As an immigrant coming to America in my teen years and with parents exposed to Chinese music and only a smattering of popular western music in the 60's I was not familiar with most music genres. Imagine my brain being flummoxed with that whirlwind succession of notes of the banjo, and no singing to dilute the audio sense!
Years after I started working I bought an everyday type of banjo and tried to find a teacher in Florida where we lived and only found a retired lady in her 80's who played it somewhat but not as a pro. I took a few lessons from her but didn't find it encouraging with her teaching style. After retiring and coming to Sugar Land, I still had the banjo and a piano although my husband didn't particularly care for the sound of classical piano music or the picking of the banjo. Typical, right? So, I didn't play.
Three years ago he passed away and I started to look for a banjo teacher to seriously start learning although all I encountered were people telling me: "No, we don't teach banjo." One day I saw an ad about a bluegrass band playing at Brazos Bend State Park. A light came on in my head! If there's a bluegrass band there must be a bluegrass banjo player.
That drive to the park took me an hour, the longest I ever drove by myself until that day. Before the band started I walked up to introduce myself to the banjo player who told me that he doesn't teach but he will give me his teacher's name and number. Hearing that wonderful musician playing banjo so beautifully I'd figured his teacher must be great.
The banjo player turned out to be Bob Young and I vowed I'd play like him one day. That very next day I called his teacher and the rest is history! I started classes with Tony that following week because I couldn't wait to get started!
Tony is a gentleman, always humorous, kind, patient, encouraging and, as the proverbial teacher, full of knowledge of country and bluegrass music and stories about all the legends and history of the famous banjo music songs. I have come to see him as one of the legends as well!
When I hear a piece of banjo music or think of a song appropriate for banjo, I'd ask Tony to teach me. I know that even if he hasn't played it, which is rare, he would be able to just create and write the music for me. With his left hand scribbling away so quickly with alternating colored pens, within a few minutes the sound in his mind would transfer to the licks on paper! As he writes them down he'd get me to play each one so it was as if we were creating music together. Surely I was just the instrument for him to hear if it's even in me to duplicate the sounds!
If you ever wondered whether you can play banjo, think no more. Pick up the phone and call Tony! He will bring the wonderful world of banjo music to your life. I know my life has been better learning this beautiful instrument from Tony.
Yours will, too!
Louise Cirasole